Why I'm leaving the NEU
January 26, 2019
I first joined the NUT (National Union Of Teachers) back in 2001 as a PGCE student. It is now part of the NEU (National Education Union). This year, I finally resigned my membership.
I think being in a trade union is really important. I have been helped by my union in the past when I've needed it. I know there are still many great union reps in the NEU standing up for teachers. But a trade union has to represent all its members, not just those of a particular ideology. I think the NEU has become an ideological basket case, unable to show any respect to teachers who don't believe in progressive education.
Here is why the NEU don't speak for me.
Mary Bousted is one of the joint general-secretaries of the NEU. She might oppose times table tests, but as a secondary math teacher, I see how many kids arrive at secondary schools without any fluency in number bonds or times tables.
Kevin Courtney, the other joint general secretary, agreeing with this:
The managing director of the CBI says he's worried about the emphasis in England's school system on rote learning techniques.

Neil Carberry is only half joking when he invokes one of Charles Dicken's least loveable characters, Thomas Gradgrind, the hard-hearted, fact-obsessed school superintendant in Hard Times.

"We want human beings who do human things really well because, the way technology is changing, that's where the jobs will be in years to come."

Speaking at the launch of a new education strategy for the BBC, he said simply focusing on getting teenagers to the age of 16 with a clutch of GCSEs was not enough.

"We need a whole education approach to young people including the ability to work in teams, to be resilient, and to present well."

He's concerned there is more emphasis now on memorising facts, than in school systems in other advanced economies.

"Facts matter in education, times tables matter. Basic maths and literacy are the gateways to good careers. But we can teach them in more engaging ways which develop other skills."

Rather than what Neil Carberry describes as "'Gradgrindish' repeating of times tables in the classroom", he says knowledge should be used in a context that makes it relevant.

What children learn in England has been re-centred around a curriculum with an emphasis on knowledge in core academic subjects.
We've had decades of dumbed down education. It's great that now kids are expected to actually know stuff. We don't need our union trying to turn the clock back.
Behaviour remains one of the biggest scandals in our schools, and something that creates toxic working conditions in schools. Knowing how much happier teachers are when they don't have to fight behaviour, I'd expect a teachers' union to support strong discipline. Yet, this is what we here from NEU conference (via TES).
Zero tolerance discipline policies in schools are "an abuse of the rights of our children", a teachers' union has heard.

The claim came as the NUT section of the National Education Union debated pupils' mental health.

There was unanimous support from the conference in Brighton for the union opposing "the move towards ever more punitive behaviour policies in schools" which it said was "feeding a mental health crisis for our children".

"The increasing use of detention, isolation and exclusion, often talked of as being 'zero tolerance' approaches, usually mean ignoring the varied difficulties children have in favour of punishment," the motion read.

"We believe that above all else,  children need support, respect and love."

Michael Holland, from Lambeth, told delegates: "Zero tolerance is intolerance. Zero tolerance doesn't work. Zero tolerance is cruel, Victorian, Dickensian.

"It punishes working class children the most, it punishes black children, and children from black and ethnic minority groups are far more likely to be excluded from schools.

"It's an abuse of the rights of our children."
Because, of course, letting children run riot is so good for their mental health.
Then there's political extremism. Skwawkbox is a hard left "fake news" website, known for its defence of anti-semitism. Here's the NEU in my region sharing its unhinged conspiracy theories about the BBC.
More from Mary Bousted. This time arguing against knowledge on the infamously silly grounds that kids will be doing "jobs that haven't been created yet".
I wrote that if we are to prepare our children and young people for the world they will live and work in, then we must ditch the false divide between knowledge and skills. We must acknowledge that we need both.

And I noted that the Organisation for Economic Cooperation and Development is strongly advocating curricula that integrate knowledge, across subject disciplines, with skills development.

Andreas Schleicher, the head of education at the OECD, looks ahead to the abilities that will increasingly be needed by our school leavers in the future. He argues that the demands on learners and on education systems are evolving quickly.

Schleicher says that, in the past, education was primarily about teaching people something. But now, he says, education should be "about making sure that students develop a reliable compass and the navigations skills to find their own way through an increasingly uncertain, volatile and ambiguous world".

Schleicher reminds us that, in the past, teachers could expect that what they taught would equip students with the skills needed for the rest of their lives. But that is not the case today because, he argues, "schools need to prepare students for more rapid economic and social change than ever before, for jobs that have not yet been created, to use technologies that have not yet been invented and to solve social problems that we do not yet know will arise".
Here she is again attacking teachers for off-rolling. While I have grave doubts that off-rolling is anything to do with Ebacc scores, I accept it is a problem and that headteachers who do this should be criticised. But since when was it the job of a teaching union to denounce teachers?
Similarly, when a school disputed a draft OFSTED report for being too critical, you'd expect a teachers' union to be on the school's side. But, no. If your school is in the wrong MAT, the NEU will not stand up for you.
Kevin Courtney, the joint general secretary of the National Education Union, has demanded an investigation into the involvement of the RSC's office into the inspection because it "raises serious concerns that Ofsted is not completely independent."

His words were echoed by Mary Bousted, his co-leader, who said the outcome of an Ofsted inspection should not be dependent on "how confident or savvy the leaders are in challenging the judgment".
Yes. That's a teaching union publicly objecting to school leaders who have confidence when their schools are criticised and do something about it.
Here's an NEU executive member attacking OFSTED for saying they will support heads who punish bad behaviour.
This is Kevin Courtney saying that it is "disgraceful child abuse" to let parents know how kids did in a test.
More support for dumbing down (along with personal attacks) from Mary Bousted:
Ofsted is in "a lot of trouble" and its chief inspector Amanda Spielman is "not a safe pair of hands," a teaching union leader has claimed.

The criticism from Mary Bousted, joint general secretary of the National Education Union (NEU) has been sparked by Ms Spielman's warning that disadvantaged teenagers are not being challenged enough with the reading materials they were given.

Dr Bousted, a former English teacher, said the chief inspector of schools had showed "a complete lack of understanding of the challenging nature of work in disadvantaged schools".

She said: "Teachers in these schools have been trying to get children to understand that reading can be enjoyable, and to give them books which are appropriate to their reading age, and which allow them to get enjoyment by reading fluently, and not constantly having to decipher words they don't understand or having to work their way through complex sentence structures."
More from Kevin Courtney this time the problem is assessment.
The effects of our assessment system on learning, workload and wellbeing are at the heart of England's educational problems.

Those who work in education know this in their bones. It is a message that education unions have tried to communicate for many years. They have been too often met with incomprehension or hostility. Politicians have clung to the notion that only high-stakes testing, and punitive accountability, could lift educational standards. The reality, that testing and accountability of these kinds are the route towards low-quality education, was not something they could bear to contemplate.
Here's a branch of the NEU not far from me, sharing media attacks on a school for asking kids to be quiet when moving between lessons. Teachers at the school have been generally supportive of the policy and distressed by the media attacks. But why would a teachers' union care about them?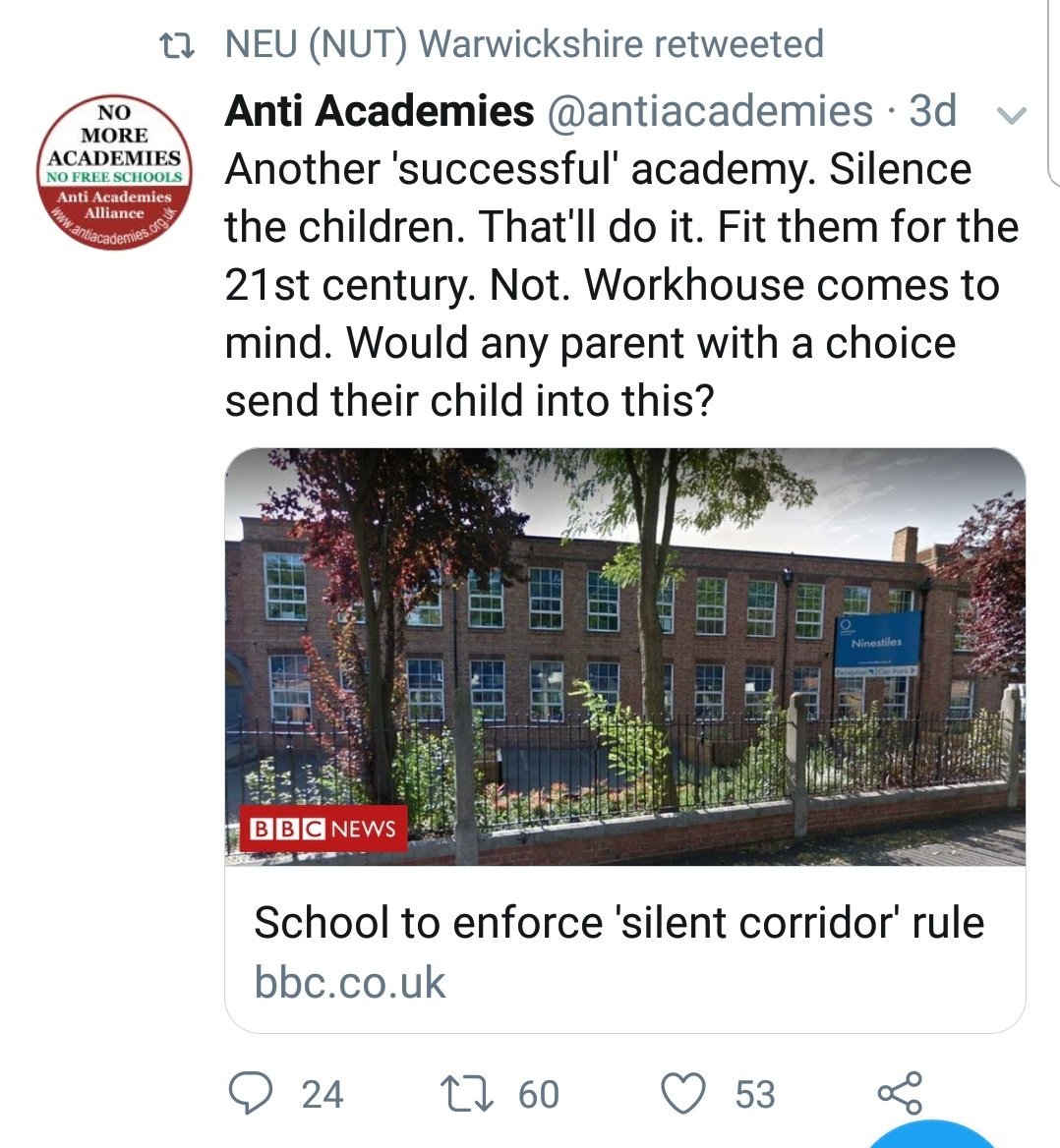 And finally, the worst insult to me personally, and the best indicator of the contempt the NEU's leaders have for teachers, Mary Bousted supported a troll's blogpost that, amongst other conspiracy theories, linked me with the far right. (Full story here.) Obviously this was all all lies and when I challenged about why she would spread malicious lies about one of her own members she said this:
I have 17 years of membership of the NEU. During one strike called by the NUT, I was at a school where out of dozens of NUT members, I was one of only 2 who didn't scab. Even the union rep wouldn't strike. And this is the thanks I get: begrudging acknowledgement from the general secretary that she won't disagree with me when I say I'm not a Nazi?
Thanks, but no thanks, NEU/NUT. You no longer deserve the support of teachers. I've joined NASUWT.
11 comments